SLAM-N-JAM CAMP & CLINICS
Camps & Clinics
MODESTO SLAM-N-JAM 2023
SUMMER BASKETBALL CAMP
Featuring GABE VINCENT of
MIAMI HEAT NBA EASTERN CONFERENCE CHAMPIONS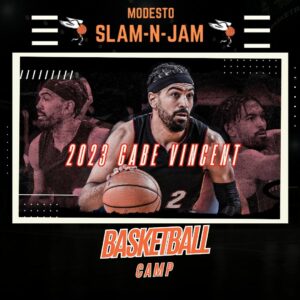 FOR GRADES 2-8

MODESTO JUNIOR COLLEGE GYM (Coldwell Ave)
Fees: $175 Includes basketball & t-shirt
Dates: July 5-7 (Wed.-Fri.)
Times for Grades 2-5: Wed-Thurs 3:00-6:00, Fri. 9:00am-12:00
Times for Grades 6-8: Wed-Thurs 6:00-9:00, Fri. 12:00-3:00
Gabriel Vincent was born in Modesto. He started playing for Modesto SNJ in the 3rd grade. 
He attended St. Mary's HS in Stockton. Gabe played in the 6 County Senior All Star Game and was the MVP of the game. He received a full ride scholarship to UC Santa Barbara. Gabe began his professional basketball career with the Stockton Kings (2018-2020). He was named the G League Most Improved Player in 2020. He was then brought up to the NBA Miami Heat (2020-present). Gabe is the starting point guard and wears #2. He recently scored a career high 29 points in game 3 in the series against the Boston Celtics. His team are the current Eastern Conference Champions and will be playing in the NBA finals.He is also on the Nigerian National Team and played in the 2021 Olympics.
Disclaimer: As of May 29th, Gabe's team Miami Heat will be playing in the NBA championship finals against Denver. If the series goes 4 games, he will be done June 9th. There is the possibility it could go 7 games until June 18th . If he has additional NBA commitments, it could conflict with him attending the camp. But he has assured us that he will make every attempt to be there, so, we are thinking positively and will proceed with planning and registration.This is the second year we are having a camp, featuring Gabe Vincent. Due to last year's huge response, we have moved the camp to MJC to accommodate more players. However, we are expecting big numbers, so register early to assure your spot.
Use this link to register:
For more information call (209) 622-0923 Or email modestosnj@gmail.com